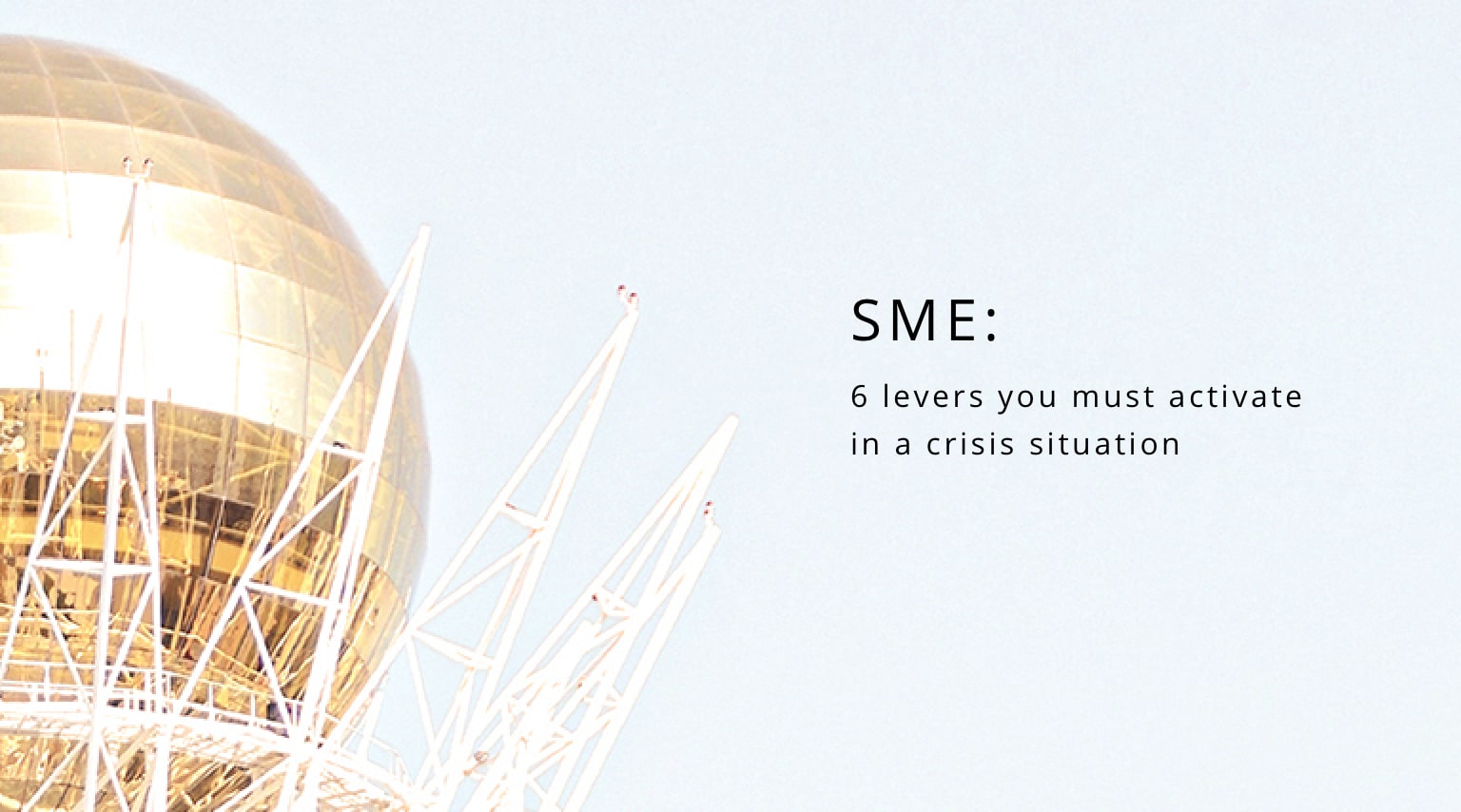 SME: 6 levers you must activate in a crisis situation
The current situation confronts companies and their managers with multiple and often complex issues. We offer you solutions to cope and move forward.
N° 1 – Remote working induces the art of remote management
Clear instructions allow effective intern work organization while maintaining cohesion within your structure, even remotely.
Effective communication tools help your staff members staying motivated and committed in ongoing projects.
Ensuring regular feedback and planning follow-ups is essential to the smooth and regular development of your activity.
N° 2 – HR support and personnel management
As a business leader, you must make difficult but sometimes inevitable decisions.
E– Planning these decisions upstream and setting up legal support helps manage disputes and legal procedures occurrence.
Fluent communications around those decisions is essential to keep your staff members motivation
N° 3 – Accounts receivable and collection management
Whatever may be the cause of payment defaults, it is crucial to organize the follow-up of your invoicing and to maintain contact with your debtors. This is the only way to anticipate the economic upturn and pay your debts, and if necessary, implementing procedures to safeguard your rights in the long term.
Keeping in touch with your debtors in the event of default will allow you to plan the recovery and obtain payment of your debts, introducing the required procedures to preserve your rights might be considered.
No. 4 – Loss of cash and lack of liquidity
Financing solutions research and negotiation
Defaults in your account receivables causes a lack of liquidity.
It results in difficulty paying suppliers, initiating production and maintaining business activity.
You might feel stuck and looking for financing solutions to allow your company to maintain its production, fulfill your order book and continue your activity.
Defaults by your debtors lead to a lack of liquidity.
You have difficulty paying your suppliers and therefore honoring your order book.
You quickly need flexible refinancing solutions.
The factoring and business aid offered by the FAE and Fondetec provide effective solutions.
The financing file must be carefully prepared.
N° 5 – The balance sheet of your company is its resume
Optimization of financial statements
Whether it is to obtain a credit, set up a factoring, obtain exceptional assistance from the FAE or Fondetec, transfer or sell your business, it is imperative that your accounting is kept perfectly and present financial statements and accounting projections that highlight the value and potential of your business.

Your company file must be methodically prepared and documented.
The accounting elements must be carefully examined and the current and future financial situation of the company must be closely analyzed and optimized.

Whether it is a request for financing or the transfer of your business, financial statements and accounting projections must emphasize your company's full value and potential.
Whether it's an application for financing or the transfer of your business, financial statements and accounting projections should highlight your full value and potential.
Your company's file must be methodically prepared and documented.
Calling on the advice of an expert can be decisive for the success of the operation.
OUR SOLUTIONS
Analysis and revision of accounting
Balance sheet items optimization
No. 6 – Creditors or collection management
You had to suspend your activity, but your expenses continue to accumulate.
Don't let the situation slip away from you. Regaining control over the situation and establishing long-term visibility is vital for your business.
It is often possible to obtain deferrals or payment schedules.
Developing a strategy and completing the entire process alone can be challenging. Choose to be accompanied.
Watt law supports you at every stage of the life of your company to enable you to achieve your goals.
Labour law – Decision-making tools & leadership support – Growth strategy & M&A – Collection process & debtor monitoring – Financing search – Optimization of financial statements – Consolidation & negotiations.